23-27 September 2019
Budker INP
Asia/Novosibirsk timezone
October, 10th. Workshop photogallery now available at the external database.
October, 4th. Dear Colleagues! Today I have been informed that some of you try to upload the paper to the proceedings but failed. From my side I check the SPMS settings and everything looks good! This is unexpected error and I'll try to fix it. But in any case please send your paper to me using GoogleDisk, YandexDisk, or simply by e-mail. Please send me your source file as well not PDF only.
Reminder. Deadline for paper submission to the Workshop proceedings - October, 6th, 2019.
2019 Dieter Möhl medal winners: Gerard Tranquille, Rolf Stassen and Lijun Mao.
September, 23. Workshop starts! Click on the photo to get the big one.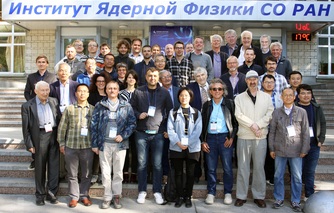 September, 12. Workshop programme (v.8) now available. Second Workshop bulletin availabe as well.
Welcome to join COOL'19 at ZOOM: https://www.zoom.us/j/7788996655
The bi-annual 12th International Workshop COOL'19 will be held on September 23 - 27, 2019 at the Budker Institute of Nuclear Physics SB RAS. The workshop will be focused on the various aspects of the cooling methods and technics of charged particles. The workshop Topics:
electron cooling
stochastic cooling
muon cooling
cooled beam dynamics
new concepts and theoretical advancements in beam cooling
facility status updates and beam cooling reviews
COOL'19 SPMS instance to submit the Abstract and upload a paper to the proceedings.
Deadline for Delegate registration - August, 12th, 2019.
Deadline for Abstract submission - September, 2nd, 2019.
Previous meeting COOL'17: site and proceedings

Budker INP
Budker INP, Lavrentiev av. 11, Novosibirsk, Russia
International Advisory Commitee

| | |
| --- | --- |
| Ben-Zvi, Ilan | BNL |
| Derbenev, Yaroslav | JLAB |
| Dietrich, Jürgen | Dortmund Univ. |
| Kaplan, Daniel | Illinois Institute of Technology |
| Katayama, Takeshi | Nihon Univ. |
| Katsuya, Yonehara | FNAL |
| Meshkov, Igor | JINR |
| Nagaitsev, Sergei | FNAL |
| Noda, Akira | QST |
| Parkhomchuk, Vasily | BINP |
| Prasuhn, Dieter | Forschungszentrum Jülich |
| Steck, Markus | GSI |
| Tranquille, Gerard | CERN |
| Trubnikov, Grigory | JINR |
| Wakasugi, Masanori | RIKEN |
| Wolf, Andreas | MPI Heidelberg |
| Yang, Xiaodong | IMP Lanzhou |
| Zhang, Yuhong | JLAB |