There are not direct bus lines between the Tolmachevo International Airport and the officially recommended hotels; therefore, we suggest you to rent the official airport taxi "WillWay". It can be ordered at the desk in the arrival area of the sector A of the Tolmachevo airport, or booked in advance by sending an e-mail.
If you know your flight number and the name of the hotel where you intend to live, please download this request, fill out the required fields and send the order to Mrs. Kristina Emelkina. We prepared 4 pre-filled forms for the routes:
1. Airport - Golden Valley Hotel,
2. Airport - Park Wood Hotel,
3. Golden Valley Hotel - airport,
4. Park Wood Hotel - airport.
You can pay for the services in two ways:
1. on-line payment to the bank account of WillWay,
2. By credit card or in cash upon arrival at the Tolmachevo airport.
Please let Mrs. Kristina Emelkina know which payment method you have chosen. The fixed fare from the airport to Akademgorodok is 1100 rubles for the econom class taxi (like Nissan Almera), 2100 Rubles for the business class taxi (Toyota Camry) and 2500 Rubles for miniven in case when you order the taxi in advance and pay to the Sberbank account (exchange rate for the differente currencies see here). If you ask the taxi after arrival at the kiosk there are no guaranty to go immediately, probably you have to wait a lot for the free car and have to pay more than above mentioned. We recommend you to order the car in advance.
The well known taxi services Uber, Yandex.Taxi etc. available in the Novosibirsk as well.
If you need any help or additional information, do not hesitate to contact us.
This is a photo of the taxi desk at the Tolmachevo airport, terminal A (domestic flights):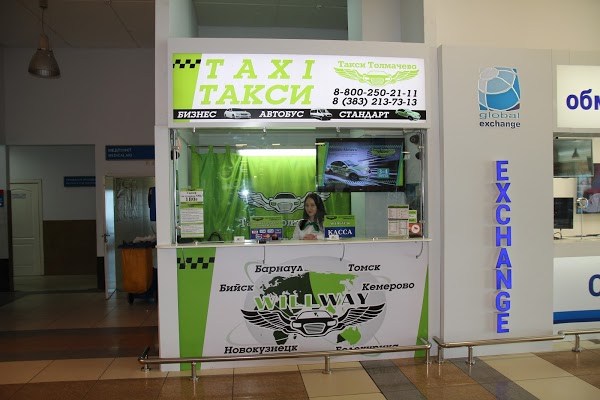 For those participants who will stay at the Park Wood hotel we prepare the advises to use the public transportation between hotel and Budker INP.